Adobe Animate (Flash)
Adobe Animate is professional-grade software published by Adobe and comes with a subscription to Creative Cloud (averaging US$52/month for general users or half that for college students) or as a standalone subscription (averaging US$20/month). It was formerly called Flash and some users still refer to it as such. It focuses purely on vector 2D animation and offers a wide range of capabilities, including complex tweening, puppet, multiplane, audio, and compositing features. Intended for use by experienced animators, it has a steep learning curve (meaning it can be hard for beginning animators to pick up). Adobe Animate runs natively on Windows and MacOS.
Opinion -- If you are a starting animator, I, (høneycøne) recommend starting out with a free (or at least cheap) program, so you have time to practice and learn the basics of animation instead of wasting US$20 a month on a program you don't know how to use. If you'd rather jump into Adobe Animate CC, then go ahead!
Users -- This program is currently used by Kittydog, Rossali, scotch, Birdie (I think), JonKaGor, CookiePawz, Alex Animations (sometimes) and Sashley.
Official Site | Download Trial (requires Adobe account) | Official Resources
Antics 2-D Animation
Antics 2-D Animation is a vector based 2D animation and design program and is the oldest program in this list. It was originally created in 1972 in the Fortran programming language and ran under the Unix operating system, but by the late 1990s was superseded by newer C++ based multimedia oriented systems. A complete rewrite of the program in C++ was started in 2006 and released in 2010[1]. The program costs £50, but has a free fully featured 45-day trial version.
Its latest version was released in 2011.
Blender
Blender is a free, open-source 3D graphics program that also has 2D drawing and animation capabilities. While originally it was geared toward 3D graphics, recent updates to the grease pencil tool made it viable for 2D as well.
Clip Studio Paint
Clip Studio Paint (formerly known as Manga Studio) is a digital art program for drawing, comic production, digital painting, and is recently used for animation and story-boarding as well with the new animation feature in later versions of the software, such as version 1.5.4 which introduces the feature while 1.6.2 allows for tweening and sound importing. Clip Studio Paint comes in two editions - Pro which costs 49.99$ and Ex which costs 219$. The Pro edition limits animations to a length of 24 frames (the Ex edition doesn't have that limitation).
As of May 2021, the pro edition is offered for free with the purchase of some Wacom tablets.
Clip Studio Paint runs on Windows and Mac.
Users -- Shane
Download Trial | Buy
FlipaClip
FlipaClip is about as basic as you can go. It's a free mobile app that allows users to animate. The program only allows the user to have 3 layers (including video layers), 6 seconds of imported video frames, and when the animation is saved, a big fat "FLIPACLIP" watermark on the bottom left corner. That's where the premium version comes into play. It's only US$5.99 to buy all premium features, which include up to 10 layers, 7+ seconds of animation, no watermark, onion layer settings, backup project to files, ad removal, custom canvas size up to 1920x1080, exporting frames as .PNG image sequences, and advanced drawing Grid settings! The program itself is basic, but is hard to produce smooth animation from, calling the smooth FlipaClip animators "FlipaClip masters." FlipaClip runes natively on iOS and Android.
Users -- This program is currently used by Sushii Z, Baked Potonion,pastarru.Kittydog (sometimes,) Crystal Wish, Alex Animations, Lazii, and ice_crime.
Official iOS Download | Official Android Download
FireAlpaca
FireAlpaca is a free drawing and animation program.
How To Use FireAlpaca -- At first glance, it's a regular art program, but if you go into the "View" panel and press "Onion Skin Mode," the program transforms the layers into frames, and henceforth, you can animate. At this point, adding actual layers is confusing and you may end up merging them, but instead of that, just add folders, drag the said layers into the folder, and bam! Now you have folders which allow you to hold multiple frames while still in Onion Skin Mode. To view your animation, go to "View" and press "AutoPlay." Once you finish said animation, add a folder to your desktop, press "File" and "Export Layers (Onion Skin Mode)" and select the folder of where you would like to export your animation. Then go to http://firealpaca.com/en/douga/ and drag your files there in order to turn your animation into a .GIF animation. You can also import the frames into your favorite video editor.
Although you can't sync up audio with the animation, it's pretty easy to get the hang of.
FireAlpaca runs natively on Windows and MacOS.
In addition to the free version, FireAlpaca also has the paid SE version which is currently available on Steam for 39.99$. Unlike the free edition, SE doesn't show any ads and has a better performance.
Users -- Scotch (sometimes,) Kittydog (sometimes,) Høneycøne (sometimes,) Scootaloo Loves Sans.
Official Site | Download | Official Resources
Krita
Krita is an open-source drawing and animation program. Its early development can be traced to a presentation made by German computer scientist Matthias Ettrich at the 1998 Linux Kongress [2][3]. The first version was released in 2005.
Krita can be used to create frame by frame raster animations and to export them to several formats. It can also batch import frames created in another program.
Krita natively runs on Windows, Linux, macOS & Android devices.
MikuMikuDance
With a different community in itself, MikuMikuDance (MMD) is a free 3D program animators use to make animation memes.
Users - 공레Gong re (sometimes), Seelmaru (sometimes), Komachichuu.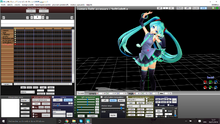 OpenToonz
OpenToonz is a free, open-source program published by Japanese company DWANGO and is an alternative to the paid Toonz Premium software. It is well-known for being used by Studio Ghibli (albeit in a customized form) and is infamous for its steep learning curve (meaning it can be hard for a beginner to pick up).
It runs natively on Windows and MacOS.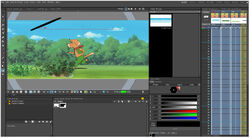 Pencil2D
Pencil2D (sometimes just called Pencil) is a completely free, open-source program originally designed to mimic traditional cel-based animation. It is relatively stripped down and focuses almost exclusively on frame-by-frame animation with no support for puppets. It allows both vector and bitmap art. It runs natively on Windows, MacOS, and Linux.
Unlike most modern animaiton software, Pencil2D lacks built-in support for UHD/4K/Retina displays in its Windows version, meaning the interface does not scale properly at resolutions higher than 1920x1080.
Official Site | Download | Official Resources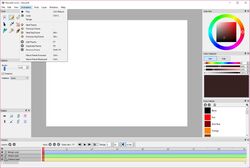 Scratch
Scratch is a browser-based 2D vector-based editor intended for children who are learning to code. The layout makes tweening very easy, but the drawing program and audio system are not the best. It is completely free and online, but the editor can also be downloaded. It used to require Flash to run but no longer does as it switched to HTML5 in January 2019. This change also means it can run on most modern mobile devices.
Because it is a family-friendly platform, mature themes like nudity/sexual content, blood/gore, substance abuse, and profanity are not allowed.
Users - Tickinq, Choco-Doggo, RedCuzImAwesome
Official Site | Official Resources
Synfig
Synfig is an open-source (under GPLv3) 2D vector graphics and animation program created by Robert Quattlebaum (and with some contributions by Adrian Bentley). It runs on Windows, Linux and Mac OS.
Official Site | User Manual | Source-code repository
Toon Boom Harmony
Toon Boom Harmony is an advanced 2D animation program published by Toon Boom Animation Inc. alongside 2 other standalone animation-related products, Storyboard Pro and Producer. It has many complex features compared to entry-level programs such as robust tweening, puppeting, multiplane, and compositing capabilities, and is used by a number of professional animation studios.
It is available in 3 tiers: Essential (US$15/month), Advanced (US$39/month), and Premium (US$75/month) with each level adding a higher maximum resolution and more advanced add-ons. The Essentials version only allows vector art but the other two also allow bitmap.
Harmony runs natively on Windows and MacOS.
Official Site | Trial Download (21 days) | Official Resources
Users - Katzun, Rossali, Yeagar, Torriku Sotaru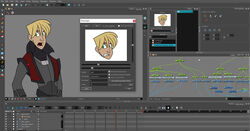 Trivia
Animation can be done with a combination of a static image editor and a video editor (such as Paint Tool SAI + Adobe Premiere) or through a single piece of software with animation features built in (such as Adobe Animate)
Most experienced animators compile their videos in separate video editing software, regardless of what they use to create the frames
Adobe Flash (one of the most popular animation programs in the world) was renamed to Adobe Animate in early 2016.
References
Trending pages
All items (4)